"You know, lately, I've been seeing double."

This article is a stub. Help the Dragon Ball Z: Final Stand Wiki by expanding it!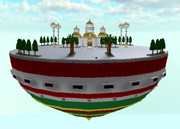 Kami's Lookout
(otherwise known as
The Lookout
) is a location above
Korin's Tower
on
Earth
.  
Here, players can access the Hyperbolic Time Chamber once a day, participate in the Tournament of Power by sitting in the seats or tiles near Whis, or they can go to the back behind the palace of the lookout, to find a teleporter to the Dimensional Rift to go and fight Broly BR. Or if they are a Namekian, they can fuse with Kami to gain 20 free stat points. 
On the lookout are 3 NPCs, the aforementioned Whis, Kami, and Mr. Popo. 2 of the 3 of these NPCs have only a one-time use. That being Mr. Popo, being someone you have to talk to for a quest, and Kami, being used only to fuse with by Namekians. 
Trivia
Mr. Popo does not have a body, instead just a floating hat can be seen next to Kami. Despite this players can still interact with him.

Prior to his body's mysterious removal, Mr. Popo's head would turn to face you.

As of the March 2, 2019 update, his body has been restored, though his head no longer turns.