Raise a Floppa - The Loop
Play Sound
This article is about the map. For the playable race, see Namekian.


Namek is the second playable map and first unlockable area in Final Stand. The player must be at least level 100 to travel to Namek.
Accessing
Once the player has reached level 100, they may interact with the Nameless Namekian's spaceship in Yunzabit Heights. Doing so will teleport them to Namek.
Setting
Contrasting Earth's familiar palette of colors, Namek is almost entirely comprised of green. Most notably, the sky and water share a bright green hue whilst the grass appears to be dark teal. Villages are dotted around the map.
Locations
Hostile NPCs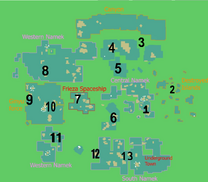 Elite Frieza Soldiers
Universal Namekian
Strong Frost Demons
Zarbon
Recoome
Captain Ginyu, Recruit Frieza Soldiers
Frieza (Final Form)
Burter, Frost Demons
Strong Frieza Soldiers
Frieza Soldiers, Jeice
Executive Frieza Soldiers
Rogue Nameks
Guldo, Super Elite Frieza Soldiers.
Bugs
If the player joins Namek on Xbox, there is a chance for their camera to spin uncontrollably.
Namekian's Spaceship cannot be used in Namek.
Sometimes you may not be able to jump in Namek.
Trivia
The Frieza Soldier NPCs have the most variants and counterparts.
Planet Namek is the second and last map to have Quests that require the player to interact with NPC(s)/item(s), the first being Planet Earth.
In some cases, while fighting Frieza he will teleport to a random spot near his ship.
By Doing all dailys and quests namek will leave you at level 175
Gallery
MAPS