No Man's Sky Update - The Loop
Play Sound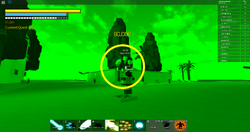 Power Levels are informational measurements of a players strength and capabilities that can be viewed with the use of a Scouter. They have no effect on gameplay other than to gauge a player's strength, which can also be done using Ki Sensing. Both methods have their own strengths and drawbacks.
Just like in the anime, power levels really don't mean much, as you could be a high-level Saiyan and be terrible at fighting, and could lose to a mid-level Majin who is an amazing fighter. If this was so, Humans would be the most overpowered race as they have the highest power levels amongst the other races.
Methods of Gaining Power Level
Leveling up - After every five levels, a player's power level will increase by 10,000. The value distributed increases later on, though Saiyan's base power increase is not as large as the other races (resulting in a level 300 Saiyan having an estimated base of ~600,000 compared to a level 300 Human base power level of ~5,500,000.
Transforming - This multiplies a player's base power level by a certain amount such as: SSJ having a 2.4x multiplier on the player's power level on use.
Fusing with another player - Fusion affects players' power levels by multiplying them together.
Purchasing movesets - Purchasing the God of Destruction Moveset or Hit Moveset will increase the player's power level by 350,000 each upon purchase.
Prestiging and Rebirth - Although at level 1, they lower your power level, you become stronger as you regain your transformations plus the boosts from both options, overall increasing your power level as you get back to the level when you prestige/rebirthed.
Trivia
The previous maximum power level used to be 1 trillion (1,000,000,000,000). This was because of how Roblox could handle numbers up to that number. As of the 2020 January 25 update, the current max power level is -9.2233720368548e+18,000.

The number is most likely negative because the number is too big and overflowing, and therefore a negative number in order to prevent crashes.

The e + x ("x" as in any number) is incorrectly displayed as x times 1,000, most likely for a placeholder. This is most likely because of e + 18,000, as it would mean 1 x 1018,000, and this happens after the quadrillions' digit most of the time, which would be x e 15,000.