No Man's Sky Update - The Loop
Play Sound

"You know, lately, I've been seeing double."
This article is a stub. Help the Dragon Ball Z: Final Stand Wiki by expanding it!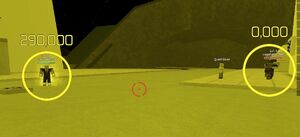 Scouters can be used to check the Power Level of other players. There are different colours that can be bought at Central City's Thrift Store, and you can choose one to start your character in Character Creation. They are accessories that can be taken off or put on. They are similar to Ki Sense, as they can both be used by pressing "Z"

Mechanics
Scouters will change the colour of the screen (full screen when on, partial screen when off) to that of the Scouter's colour (yellow, green, blue, red, etc).
Scouters, when on, will mark every player on the map with a yellow circle, these yellow circles are only visible on the player who activated their scouter's screen, unless another player activates their own scouter
Bugs
The current Maximum Power Level is "-9.2233720368548e+18,000", but it's unknown why the number turns negative.

This is most likely so because of an overflow, where a number is so big that it takes up all the number spaces in binary, because of this, the number becomes negative to prevent an error. This can be seen in old tycoon games where the money would become -2.147 billion.
This also means there is a maximum size of a ki sense bubble. When a player reaches this maximum power, it becomes impossible to tell through ki sense if someone is stronger than them, as any other player who has also reached the maximum power will appear to have equal power.